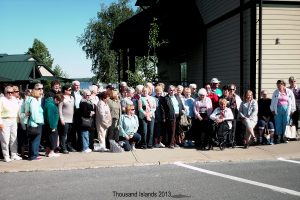 Enjoy day and overnight excursions with OLLI members planned by the OLLI Travel Committee and Friendship Tours. Learn about new and old places waiting to be explored with your OLLI friends!
Trips are open to current OLLI members on a first-come, first-served basis. They are also open to non-members for a surcharge of $10 for day trips and $20 for overnight excursions.
For reservations or questions, call Friendship Tours at 860-243-1630 (do not call the OLLI office) then mail individual checks for each trip made out to Friendship Tours, 705 Bloomfield Ave, Bloomfield, CT 06002. Please ask for "OLLI" trips and clarify if you are a member or non-member. You will receive confirmation through the mail with all pertinent information. If you have any special needs or handicaps, please advise Friendship Tours when you register.
Please Note: Trip fees are non-refundable unless a substitute is available on the waiting list.
Frequently Asked Questions about OLLI Travel
Upcoming Excursions
---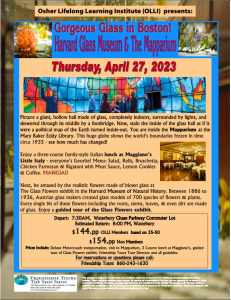 Date: Thursday, April 27, 2023
Location: Harvard Glass Museum & The Mapparium
---
*RESERVE EARLY*
The deadline to reserve this trip is April 2, 2023.
When calling Friendship Tours to reserve this trip, make sure to ask for the OLLI trip on April 27, 2023. (There is an identical trip being offered on a different date that is not an OLLI trip.)
---
*Please click on the flyer for more information about this trip.
---
The flyers for these trips may also be found at the OLLI Information Table during the Spring and Fall semesters. You can also get more information and answers to any further questions by calling Friendship Tours (1-800-243-1630).  Please inquire about OLLI Day or Overnight Trips. As always, it is important to get reservations in early to assure your trip.
Travelers will be expected to sign and certify that they are in good health at the time of boarding the bus for all trips.
Covid Vaccination Status and/or masks will be dependent on the trip destination's rules. (*Fully vaccinated means that you received two (2) shots of either the Pfizer or Moderna vaccines or one (1) shot of the Johnson & Johnson vaccine.)