Days Until Give Local 2023!
Ends On April 26, 2023
April 25, 2023
Give Local on April 25 – 26. Your donation will be doubled when you give to OLLI at UConn!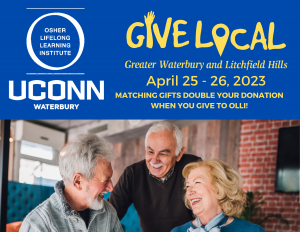 Your gifts help develop and expand our learning and community events,
enhance the experiences of older adults in Connecticut,
and change perspectives on aging.
Are you over 50 and interested in expanding your horizons?
OLLI is the program for you!
Welcome to the Osher Lifelong Learning Institute (OLLI) at UConn Waterbury, where adult learners 50 and above come to expand their minds and connect with other seasoned learners. We are proud to offer a community that invigorates the lives of lifelong learners across Connecticut.
OLLI at UConn is about friendship, learning and giving. Classes and activities are held year-round. Whether it's a local or overnight trip, a get-together for book discussions or favorite films, a committee meeting or a gathering to register for courses, our members are active in and out of class every day of the week.
Your enthusiasm for learning and social engagement brings a new energy to UConn Waterbury. Every year, OLLI becomes more closely integrated with the activities of the campus' professors and students. Between us, we are developing and pioneering inter-generational connections through classes and activities. In this way and many others, OLLI has sparked countless new friendships, new ways of thinking, and for many, a new outlook on life! As an OLLI member, you'll open the door to endless opportunities for intellectual and social stimulation. Whether you're here solely to take classes or to enjoy the myriad of other OLLI activities, you're in for a treat!
SAVE THE DATES!
Spring 2023 Semester Dates: 
Registration Opens:
Monday, January 30, 2023
Semester Dates:
Friday, March 3 - May 19, 2023
OFFICE HOURS
If you have questions for the OLLI office, then please email osher@uconn.edu or call 475-222-6232 or 475-222-6261.