Am I an

 Instructor

?
You are an Instructor, and receive Instructor Benefits (i.e. one FREE membership and course), ONLY during the session(s) in which you are instructing an OLLI COURSE.  This does NOT include OLLI Café presenters, or presenters of any other Special Events or Research Lectures. 
---
 STEP-BY-STEP INSTRUCTIONS
1) Click HERE to Access the OLLI at UConn Registration Page.
The registration site will open in a new tab. Keep this tab open to refer back to instructions.
2) Sign In To Existing Account.
All course instructors have existing accounts. Please do not create a duplicate account.
If you have previously used the OLLI at UConn online registration system at any point, please sign in using the same username and password as before. If you have lost or forgotten this information, please follow the steps in this link (Recovering Your Username/Password) to obtain your username and/or password.
If you are new to the online registration system, an account has been created for you. Your username is: yourfirstname.yourlastname (ex. john.smith). Please use your username to obtain a temporary password, by following the steps in this link: Recovering Your Username/Password
Once you have obtained your username and password, please sign in by following the instructions below.
A) In the "Sign In To Existing Account" box, at the bottom of the screen, type your username and password in the designated fields. Then, click "Sign In."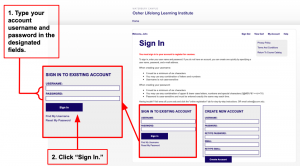 3) Add Your Desired Courses to Tour Shopping Cart.
*You do not need to purchase an annual membership. A FREE membership (which is active only for the session(s) in which you are instructing an OLLI at UConn course) is administratively assigned to your account approximately five (5) weeks prior to the start of the session in which you are presenting a course.
As a course instructor, you have the opportunity to enroll in ONE FREE course. You may register for any additional courses at your own expense. The "Free Course" discount will automatically be applied at checkout.
You may register for any courses and special events/research lectures of your choice by following these steps:
A) Make sure you are signed in to your user account (see Step 2, above)
B) Select the category in which you want to search from the menu on the left-side of your screen, and then click the individual course/event/lecture you would like to view.
C) Click "Add To Cart."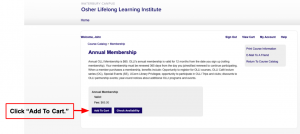 D) Click "Return To Course Catalog."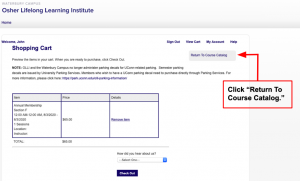 E) Repeat steps 3B – 3D for each item you would like to add to your cart.
4) Review Your Selections.
A) Once you have added all of your selections to your cart, you may review your items by clicking "View Cart" at the top-right of your screen.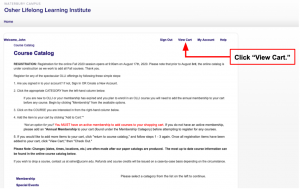 B) Before clicking the "Check Out" button, confirm that you have the correct classes and that you have only selected one class per time-slot. If there are any item(s) in your cart that you wish to discard, then you may click "Remove Item" in the box directly to the right of each individual item. This will remove the unwanted item from your cart.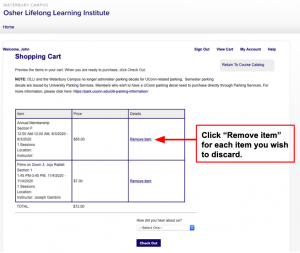 5) Submit Your Order.
Before proceeding with checkout, make sure you have added to your cart: any course, OLLI Café, and/or any other special events and research lectures you wish to attend.
*Please Note: You do NOT need to register for a Parking Decal! OLLI staff assign parking decals to course instructors based on the information provided in your course proposal. If you indicated a need for a parking decal on your proposal form, one has been/will be assigned to you.
A) Once you have finished reviewing the items in your shopping cart, click "Check Out."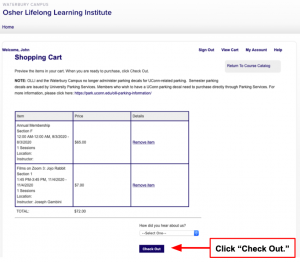 B) You will then be asked to verify your contact information.
If the information is correct, then click "Next" and proceed to step 6C.
If the information needs updating, then click "Edit Profile," make your changes, and click "Save Changes." Then, click "Next."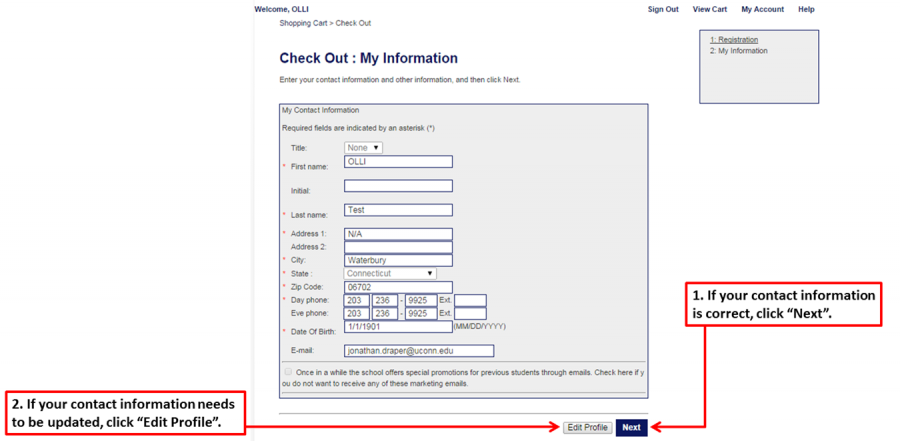 C) If you are registering for a Parking Decal, please use this screen to fill in your REQUIRED vehicle information. If you do not have a Parking Decal in your cart, then click "Next" to proceed to the "Payment Method" portion of checkout.
D) Choose your payment method.
Select your payment method from the "Payment type" drop-down menu. You may choose to send a check or to pay with one of the following credit card options: Visa, Master Card, or American Express.
Once you have selected your payment method, click "Next."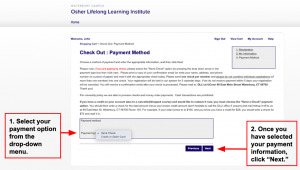 E) Confirm your billing information.
If your billing information is the same as your contact information, then check off the box next to "My contact and billing information are the same."
If your billing information is different from your contact information, then type the correct information in the appropriate fields and click "Next."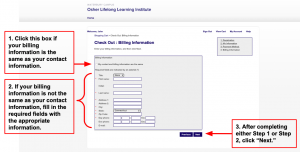 F) Review your order one last time. If  the "Purchase" page includes all the items you intend to register for, then click "Purchase."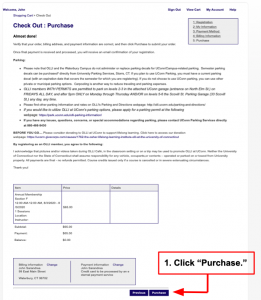 G) Once you click "Purchase" you will be directed to another page where you will be prompted to fill out your payment information.
After you fill in your payment information, click the box to the left of "By checking this box you are agreeing to the above Refunds Policy Agreement" under the "Refunds Policy Agreement" section, then click "Continue."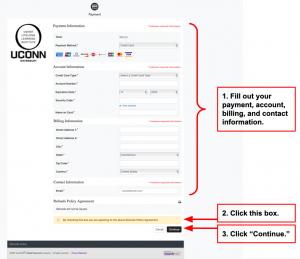 Once you submit your order, you will receive a receipt and an email confirmation. Please review and make sure it reflects what you intended to order.
If you made an error while registering, or need assistance at any time, please email osher@uconn.edu or call 475-222-6232 or 475-222-6261.