View photos from OLLI members on previous trips by clicking HERE!
Enjoy day and overnight excursions with OLLI members planned by the OLLI Travel Committee and Friendship Tours. Learn about new and old places waiting to be explored with your OLLI friends.
Trips are open to current OLLI members on a first come, first served basis. They also become open to non-members at a later date, if room allows, for a surcharge of $10 for day trips and $20 for overnight excursions.
For reservations or questions, call Friendship Tours at 860-243-1630 (do not call the OLLI office) then mail individual checks for each trip made out to Friendship Tours, 705 Bloomfield Ave, Bloomfield, CT 06002. You will receive confirmation through the mail with all pertinent information. If you have any special needs or handicaps, please advise Friendship Tours when you register.
Please Note: Trip fees are non-refundable unless a substitute is available on the waiting list.
Frequently Asked Questions about OLLI Travel
Upcoming Excursions
---
The Bay of Fundy – Walk on the Bottom of the Sea
New Brunswick, Canada
July 10th-16th, 2017 (Monday-Sunday)
PROOF OF CITIZENSHIP REQUIRED: A VALID PASSPORT
Depart: 8:00 AM, Chase Parkway Commuter Park & Ride Lot, across from the Naugatuck Valley Community College, 750 Chase Parkway, Waterbury (subject to change)
Experience a seven-day adventure to New Brunswick, Canada. The trip includes visits to Saint John, St. Andrews-by-the-Sea, Campobello, Fundy National Park, and the Reversing Falls.
Day 1: Depart in a deluxe motor-coach and stay overnight in Bangor, Maine with a welcome dinner.
Day 2: Experience a guided tour of Campobello Island on Passamaquoddy Bay – visit the gardens and the Franklin D. Roosevelt Cottage. Stay overnight at the grand Algonquin Hotel in quaint St. Andrews by the Sea, accompanied by dinner.
Day 3: Explore Kingsbrae Garden featuring 27 acres with a Dutch windmill, alpacas, peacocks and over 50,000 perennials. Travel along the Bay to Saint John, "The Fundy City," for 3 nights at the 4-Start Hilton Hotel, the only waterfront hotel in Saint John. Dinner included.
Day 4: Go on a guided tour of historic Saint John to discover nearly four hundred years of history. Experience the Reversing Falls Rapids where some of the highest tides meet twice a day and cause the river to reverse its direction, followed by a free afternoon to explore Saint John and the Old City Market before dinner.
Day 5: Visit the Bay of Fundy and travel through Fundy National Park. A stop will be made at St. Martins to see where the world's highest tides have gouged four-story sculptures from the cliffs. The leisurely afternoon will be spent in Saint John, filled with great restaurants and entertainment.
Day 6: Bid adieu to New Brunswick and cross the border for Boothbay Harbor, Maine, where there will be overnight accommodations and a farewell dinner.
Day 7: Before we head home, enjoy Boothbay Harbor Village with its many shoppes and restaurants.
Cost: $1487 per person double/triple,  $2017 per person single,  $20 per person Non-Member surcharge
Deposit: $400 per person by April 7, 2017
Final Payment: May 26, 2017
Cost Includes: Deluxe Motorcoach, 6 nights hotel, 6 breakfasts, 1 box lunch, 5 dinners, sightseeing, and admissions
For Reservations: FRIENDSHIP TOURS, Overnight Dept: 860-243-1630  (Please advise if you have any special needs)
Trip Protection Coverage is strongly recommended. Pre-existing conditions are covered only if the application is postmarked within 14 days of initial deposit and the Enhanced package is purchased. Traveling companions/roommates are required to take the same travel protection (Basic or Enhanced) in order to be properly covered. Coverage is provided through National Tour Association – Berkley. Premium is non-refundable once paid. Please review the NTA Protection Plan brochure carefully for details of coverage and call them at 1-800-388-1470 if you have any questions.
---
Adirondack Balloon Festival
Lake George, NY
Sept. 22-24, 2017 (Friday-Sunday)
A colorful 3-day/2-night adventure ….and more!
Day 1: Depart via deluxe motor-coach to New York State for the beautiful Adirondack Balloon Festival. Begin our day in Albany, NY State's Capital and visit the NY STATE MUSEUM. Spend 2 nights at the COMFORT SUITES HOTEL LAKE GEORGE featuring spacious guestrooms with a refrigerator and microwave in all rooms, indoor swimming pool and fitness center. Welcome Dinner marks our arrival.
Day 2: Depart for the ADIRONDACK BALLOON FESTIVAL – wander onto the field and help get the balloons ready for a 6:30 am launch. Keep your cameras handy… 90+ colorful, airborne balloons make a breathtaking sight. Breakfast is included at your choice of vendors. Explore LAKE GEORGE VILLAGE for lunch and stroll through their great shoppes… Join our local guide on a GUIDED TOUR OF LAKE GEORGE to learn about its history, geology, the French & Indian War, a visit to the top of Prospect Mountain and more. This evening enjoys a leisurely cruise aboard the Lake George Steamboat Company's, LAC DU SAINT SACREMENT. View the magnificent Adirondack Mountains which surround the "Queen of American Lakes" while having a hearty dinner and live entertainment.
Day 3: This morning join our local guide for our HEALTH, HISTORY & HOUSES CITY TOUR OF SARATOGA SPRINGS. Our guide will highlight the famous sites of the Saratoga Race Track, Congress Park, and Broadway. Learn the history of these sites and of the "Great Ladies" (the original name for Victorian Houses) and the families that built them. Taste test two world-famous mineral springs. Enjoy time on own to explore downtown Saratoga for lunch and shopping before we head for home with memories of our colorful weekend.
Cost: $463 pp double / triple
Cost Includes: Deluxe motorcoach, 2 nights hotel, 2 dinners, 2 breakfasts, sightseeing & admissions as per itinerary, Driver, Tour Director & Step-on-Guide gratuity.
---
New York Botanical Garden – Dale Chihuly Exhibit
October 11, 2017
Depart: 8 AM, Chase Parkway Commuter Park & Ride Lot
Return ETA: 6:30 PM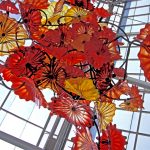 F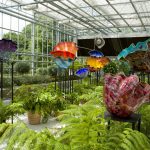 or the first time in more than ten years, the artwork of world-renowned sculptor Dale Chihuly will be featured in a major exhibition in New York. The dramatic vistas of the NYBG will be a showcase for Chihuly's dynamic works of art. New hand-blown glass sculptures, created especially for NYBG will complement the architecture of the Conservatory, itself a work of glass art. These one-of- a-kind installations will highlight the connection of artwork to the natural world. There will also be an exhibition of Chihuly drawings depicting the energy behind his artistic process.
Spend the day on your own to enjoy the grounds, the Chihuly exhibit, and Enid Haupt conservatory. Your "All Garden Pass" includes the hop-on, hop-off narrated tram, allowing you to see all the gardens in their autumn splendor.
The Pine Tree Café or Hudson Garden Grill for lunch on your own and a stop at the gift shop will round out your visit.
Cost: $77 pp for OLLI members. $87 pp for non-OLLI members.
Cost includes: all admissions and tours, Friendship Tours tour director, and all gratuities.
Contact Friendship Tours for more information or reservations (860)-243- 1630 or toll-free (800)-243- 1630.
---
The Terracotta Warriors at the Franklin Institute, Philadelphia PA
November 7 & 8, 2017 (Tuesday and Wednesday)
Depart: 8 AM, Chase Parkway Commuter Park & Ride Lot (subject to change)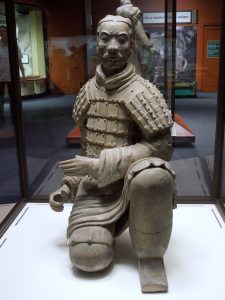 Get a chance to see some of the awesome, life-size terra-cotta army, which, according to archaeologists, is part of an elaborate mausoleum created to accompany the first emperor of China into the afterlife. In the same trip, also get a unique view of Philadelphia.
Day 1: Depart for the "City of Brotherly Love", Philadelphia, PA. We begin with a visit to the ONE LIBERTY OBSERVATION DECK, Philadelphia's newest attraction. Experience the city from above with once in a lifetime views. See Philly's top points of interest like you've never seen them before… from 883 feet up. Spend the night at the HOLIDAY INN EXPRESS MIDTOWN located in the heart of downtown Philadelphia and within walking distance to a variety of shops and over 40 restaurants within 2 blocks, featuring newly renovated spacious guestrooms & fitness center. Enjoy dinner at a local restaurant.
Day 2: This morning we're off to see the TERRA COTTA WARRIORS at the FRANKLIN INSTITUTE, one of the greatest architectural finds of the 2oth century. This exhibit will be in Philadelphia for a limited time. Come and see for yourself why these warrior statues are so amazing!
Silent, steadfast, and secret, an army of over 8,000 terracotta statues stood guard to the tomb of China's first emperor for over 2,000 years before being discovered in 1974. Now, these Warriors, symbols of the astounding achievements of mank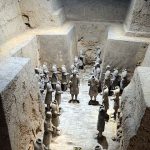 ind and the incredible history of the human race, come to The Franklin Institute in Philadelphia for the only east-coast engagement of this exhibit. Terracotta Warriors: Guards for Eternity takes a journey through the story, culture, craft, and science of the famous statues that is sure to awe and inspire. Forget everything you thought you knew about human capabilities and discover how even the most unfathomable feats can be achieved in this one-of- a-kind exhibition.
Head for home this afternoon with memories of this great experience.
Cost: $307 pp (double/triple) for OLLI members; $387pp (single); $20 surcharge for non-OLLI members.
Cost includes: Deluxe Motorcoach, 1 Night Hotel, 1 Breakfast, 1 Dinner, Sightseeing & Admissions.
Contact Friendship Tours for more information or reservations (860)-243- 1630 or toll free (800)-243- 1630
---
More information on these and all trips, such as payment schedule and bus departure times, can be found in flyers at the OLLI Information Table during the Spring and Fall semesters and also by calling Friendship Tours (1-800-243-1630).  Please inquire about OLLI Day or Overnight Trips. As always, it is important to get reservations in early to assure your trip.
All trips depart from the Chase Parkway Commuter Park & Ride Lot, across from Naugatuck Valley Community College, 750 Chase Parkway, Waterbury, CT.